Does your dog love to shed? Consider a De-Shedding treament.
Does your dog love to shed? Consider a de-shedding treatment for your four legged friend!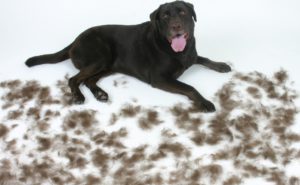 Our de-shedding treatment starts with a warm, relaxing bath using a natural shampoo that contains oat protein¸ aloe and coconut based cleansers. This loosens dead hair and undercoat to clean and reduce shedding naturally. After rinsing a de-shedding conditioner is applied that sits on the coat for about 10 minutes. During this soak the conditioner is massaged through the hair using a rubber curry brush to ensure that it is distributed completely, even down to the skin.
After rinsing thoroughly, a forced air dryer is used to blast out the loosened undercoat and dead hair. This is the messy part that you don't want to deal with at home! Releasing dead hair naturally reduces uncomfortable tugging on the coat and helps protect the remaining hairs from breakage. The forced air blow-dry is key and a professional dryer has enough power to remove dead hair in a way your personal hair dryer cannot. After the blow-out the coat is brushed thoroughly to remove the remaining loose hair. We use a number of different brushes¸ Furminators and rubber curry combs to remove as much undercoat as necessary.
A little bit of shedding even after the treatment is normal, especially if you have a thick coated breed or if your dog is currently in the middle of his normal shed cycle.  Nothing can completely stop shedding but this treatment can provide up to a 60% reduction in the amount of hair shed. The de-shedding treatment can be done as often as you like. Depending on your dog's coat type you may wish to do a de-shed treatment seasonally (for thinner coated breeds) or up every other bath (for dogs with a thick undercoat). The de-shedding/furminator treatment can be added to any full groom or bath for $30 and up depending on your dog's coat condition.